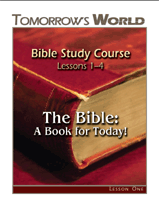 A

ccording to the Guinness Book of World Records, the world's best selling and most widely distributed book is the Bible. With an estimated 2.5 billion copies sold since 1815, the Bible has been translated into 2233 languages and dialects. Most of us living in the Western world own one.

Many professing Christians recognize the Bible as God's revelation to mankind. Yet there are so many different denominations and sects in Christianity, each having various teachings from the same book, that you may wonder whether anyone can really understand the Bible!

Well, we at Tomorrow's World believe they can! And this Bible Study Course will help you discover what the Bible really says. As you use this course to study your own Bible, answers to many questions will be made plain - questions like Why study the Bible today? Are we living in the last days? and Can you understand Bible prophecy?

So if you want to discover the answers to these questions - and many more - don't wait another minute! Register today and begin your own wonderful journey through the Word of God, the Holy Bible.